Between heat styling, chemical processing and countless other assaults we launch on our hair, it's not surprising that damage is the #1 global hair care concern, with nearly three in ten women citing split ends as their top hair concern1. Here's a closer look at the toll that all these actions take on our hair—and how best to help reverse it.
In general, there are four ways we damage our hair.
1. The first way is with chemicals. As in, straightening, perming, and even keratin treatments. "Anything that changes the bonds in your hair breaks it down," says Ricardo Dinis, Aveda Global Artistic Director, Hair Cutting. Bleaching is also harsh on hair—which is why Dinis recommends Aveda using a leave-in treatment for deep conditioning and repair like Damage Remedy™ Daily Hair Repair.
2. The second type of damage is brought on by heat. The consistent use of hair dryers, flat irons and curling irons eventually makes hair brittle and fragile, which also leads to breaks and splits.
3. Then there's environmental damage. Sun and pollution can dull, damage or dry out hair, adds Dinis.
4. And finally, there's physical damage, which is caused by heavy-handed combing and brushing as well as pulling your hair back too tightly. This causes abrasion to the hair's cuticle, which eventually thins and snaps.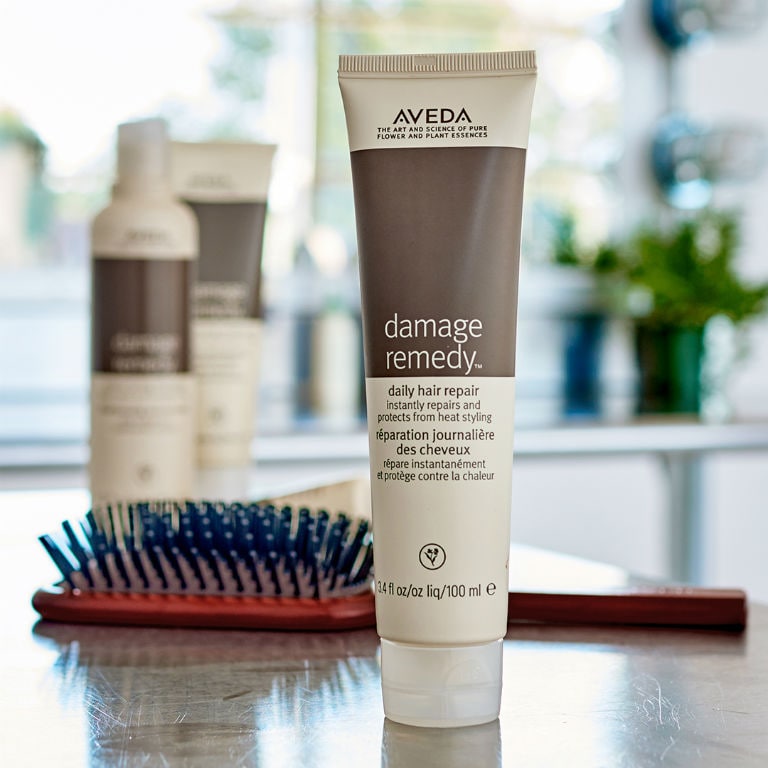 "If you're engaging in the first three forms of damage, by the time you get to brushing and styling your hair, it can break easily," says Dinis. And while it's true that an ounce of prevention is worth a pound of cure, there are products you can use to help restore your mane, says Dinis. For example, Aveda's Damage Remedy™ line-up of products, all of which contain quinoa. The range features a shampoo, conditioner, intensive restructuring treatment, daily hair repair and new split end repair, which instantly mends split ends.
Also, keep in mind that while certain things in your styling routine are non-negotiable (say, color or that keratin treatment), treating your mane with care can help strengthen hair and prevent split ends from forming. "You should never use muscle and force to style your hair," says Dinis. What should you do? Distribute conditioner through your hair with a wide-tooth comb, only brush hair once it's dry, and handle strands gently. Blot, don't rub hair dry, and massage, don't scrub shampoo into your scalp. The bottom line? When you treat your hair nicely, it responds in kind.
1Aveda Hair Care Brand Health Global Tracking Study. Issued: October 29, 2013